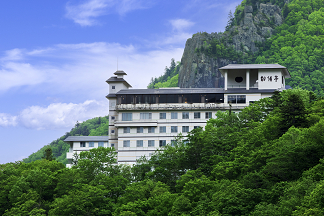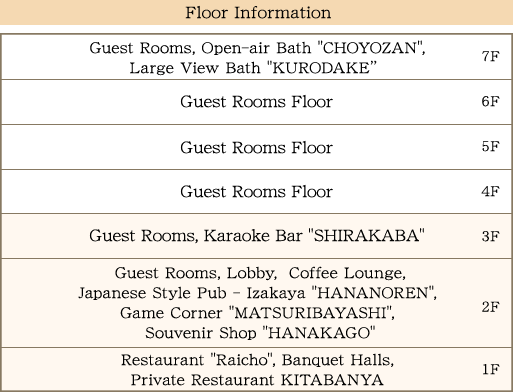 Welcome to Choyotei. Feel free to unwind yourself in the comfort of our open lobby.
Complimentary Wi-Fi is available in the lobby.

Wi-Fi can be connected to a personal wireless LAN laptop / smartphone for free. By turning on the Wi-Fi signal via your settings, it will be connected automatically. However, there are instances in which some models are incompatible and therefore any not be possible to be connected. Thank you for your advance notice and consideration.

A variety of select goods including excellent confectionery, folk handcraft, and traditional crafts exclusive to the Mt. Taisetsu area. How about some wonderful memorabilia of your travel?
【Open Hours】

7:30 – 10:00 / 16:30 – 21:30


Make your experience complete with a variety of the season's freshest food goods cooked over the warm hearth of a traditional Japanese fireplace.
Keeping with the highest quality of ingredients, our top-of-the-line Restaurant "KITABANYA" reflects Nishinbanya as the symbol of the thriving fishing industry of Hokkaido.
Savor the traditional Japanese full-course menu and enjoy communication with the friendly serving staff.

"FUEZONO" located by the front in the lobby.


Offering our ever-popular noodles, as well as additional side menu of treats.
For your after party or an even midnight bite eat.

As your stomach starts to call, come by "HANANOREN" where we are serving the finest choice of Hokkaido ingredients prepared and accentuated with the fresh spring water of Mt. Taisetsu.
【Open Hours】

20:00 – 24:00
(Last Order 23:30)
【Seating Capacity】

20 people


With a 793-square meter banquet hall, "Houo", and a wide range of other hall options for smaller groups, we recommend the space for groups of companions and for a memorable party time.
【Large banquet hall】

Houo(About 793㎡ for a whole room)
Botan(About 198㎡ for 1/4 of a room)
Yamabuki(About 198㎡ for 1/4 of a room)
Kikyo(About 198㎡ for 1/4 of a room)
Hakubai(About 198㎡ for 1/4 of a room)
【Medium banquet hall】

Asagiri(About 69㎡)
Ariake(About 69㎡)
Yugiri(About 69㎡)

Spend some downtime in the spacious comfortable atmosphere among others, or if you prefer, enjoy your cocktails more freely in a private room.
【Open Hours】

19:00 – 24:00
【Seating Capacity】

40~45 people
【Number of Rooms】

2 Box Rooms (1 room has a 10 person capacity)
【Price】

★Karaoke Box Room
1 person(1 hour) 500 yen (includes tax)
★Karaoke Bar
All-You-Can-Drink and Sing Plan Everything except beer : 1 person (90 minutes) 2,750 yen (includes tax)
Including beer : 1 person (90 minutes) 3,300 yen (includes tax)
Drink-by-Drink and Song-by-Song Option 1 person (Service and One Drink) 1,100 yen (includes tax)
Karaoke 1 song 200 yen (includes tax)


Have memorable moments in the evening, playing friendly or competitive games with family and companions.
【Open Hours】

15:00 – 23:00