Feeling the touch of nature on your skin, bathe with picturesque scenery flowing in your heart.
Immerse yourself in comfort and relaxation of hot spring bath, a time of healing and unwind for the body and mind.

This open-air bath "CHOYOZAN" is the hot spring with the most breathtaking view of Choyotei.
While soaking in the hot water with (peak of Mt. Choyo) before you, you may also take view of Sounkyo's rocky terrain.
Each morning and evening there is a swapping of men's and women's sides of hot spring baths, giving you chance to enjoy a different landscape.
Savor Sounkyo's refinement and graceful view without spare.

Through the 40-meter glass window, become fully satiated by the vividness of the magnificent ravine.

As of April 12th, 2008, the second floor Large Bath "KEIGETSU" underwent a full renovation, with an weaving of selective lighting to produce the most calm ambience and atmosphere.
The source of the hot spring water "Sasanoyu" is located in the mountains about 1 km away. Welling up to 74℃ at origin, it is sure to warm you to your very core.
Shrouded in dimness and clouds of steamy vapor, it produces the feeling of a secluded hot spring.
【Open Hours】 5:00 – 24:00
At full capacity, the sauna admits about 20 people.
The sauna, by stimulating metabolism through sweat and the detoxification process, is known for its significant health and beauty benefits including effects for beautiful skin.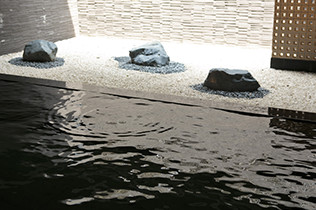 Open Hours

[13:00 – 20:00] (Last entrance by 19:00)
Price

Adult : 800 JPY (741 yen w/o tax)
Elementary School children : 400 yen (370 yen w/o tax)
Infants : Free of charge
【Rental Fee】 Rental bath towels: 200 yen (186 yen w/o tax)
*Regarding towels, you must either bring or rent towel(s).
*There are times and circumstances when it may not be possible to enter as a "day spa only" guest. Thank you for your consideration.
*Regarding use, please confirm with us in advance.
*Regarding the time schedule during New Year's / Obon holidays / and other specific days (consecutive holidays), please contact us in advance.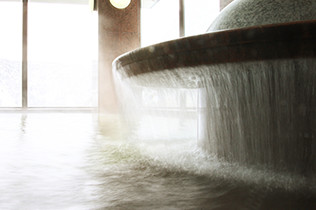 Hot spring type

Simple hot spring〈Hydrogen sulfide type〉
Benefits

High blood pressure, Arteriosclerosis
Source temperature

68℃
ph

7.5
【Open-air Bath】Hydrolysis, Heating, Circulation, Chlorine
【Large View Bath】Hydrolysis, Water stock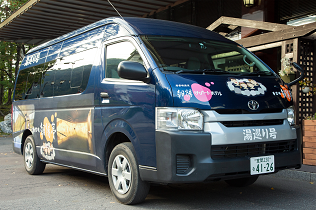 Free shuttle bus for multiple onsen experience
Free shuttle bus runs between Choyo Resort Hotel and Choyotei.
Just bring your hotel towels and enjoy all the onsens at both of our name hotels.Treat yourself in full comfort.
*The ride time to Choyo Resort Hotel is only about 5 minutes.

Healing Bath "KEIGETSU"

| | | |
| --- | --- | --- |
| | Mon・Wed・Fri | Tue・Thu・Sat・Sun |
| 13:00~3:00 | Women | Men |
| 4:00~9:30 | Men | Women |
Large View Bath "KURODAKE"

| | | |
| --- | --- | --- |
| | Mon・Wed・Fri | Tue・Thu・Sat・Sun |
| 13:00~3:00 | Men | Women |
| 4:00~9:30 | Women | Men |
Open-air Bath "CHOYOZAN"

| | | |
| --- | --- | --- |
| | Mon・Wed・Fri | Tue・Thu・Sat・Sun |
| 13:00~3:00 | Women | Men |
| 4:00~9:30 | Men | Women |
*Our onsens are separated into three locations: Healing Bath on the 2nd floor / Large View Bath on the 7th floor / Open-air Bath on the 7th floor.
*Please note that use for men's and women's are subject to the time schedule for each of the onsens.
*The sauna is open from 5 a.m. to 12 midnight.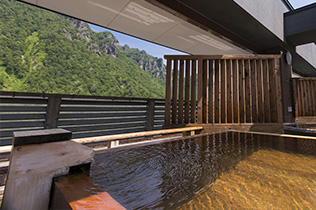 We prepare a brand ECOLOGY & SAFETY for personal care amenities such as shampoo, conditioner and body soap.
■What is ECOLOGY & SAFETY?

Silicone-free base that is gentle on the skin.
Highly eco-oriented, chosen by its level of friendliness to the environment. This same brand of shampoo, conditioner and body soap can be used for all ages.
Also, we have prepared a DHC Olive Green Series for the women's bath area.
■What is DHC Olive Green Series?

This shampoo and conditioner are gentle on the skin and hair pursued a beauty effective of olive, excellent in moisturizing capacity and anti-oxidative activity.