A blend of traditional Japanese mindfulness and modern Western arrangement.
Giving you an experience of unexpected leisure.

Extended space of Japanese and Western embodiment in our Deluxe Room.
Unwind in a feeling of relaxed refinement.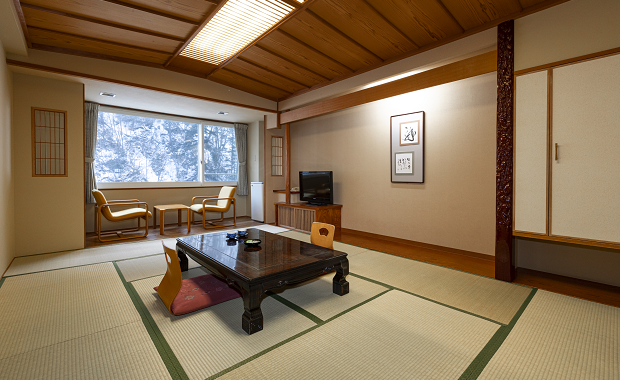 As soft light transcendence through traditional-style paper sliding door casts on the tatami mat floor, the essence of traditional Japanese form is captured.
Embrace this time with feelings of peace in heart and mind.

Our Modern Western Room most popular among romantics and married couples.
Spend your time in refined luxury and sophistication.

With an air of tatami mat tranquility, our Modern Japanese Design Room gives the sense of your own special hideaway from it all.
A room choice to fit your taste and senses.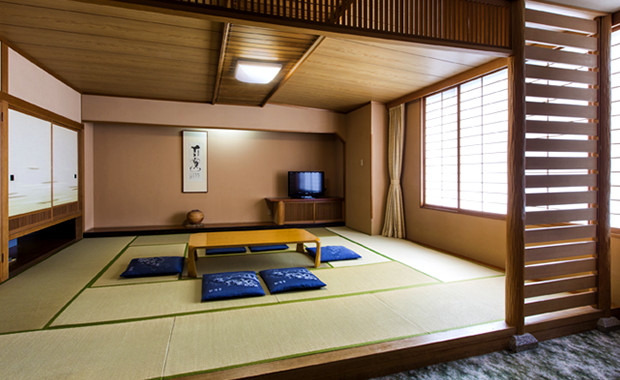 A room prepared for comfort in spaciousness, designed in traditional Japanese style especially suits large families or groups.
Number of guest rooms: 5 rooms

Smoking and Non-smoking

All of our plans have choice of smoking or non-smoking room.
Please select one of them when you make a reservation.
In addition, because of a limited number of non-smoking rooms there is a case that you may receive a smoking room, in which case a special deodorizer is used ahead of time.
Thank you for your consideration.
Room Facilities

TV, refrigerator, hot water dispenser, slippers, tea set, bathtub and shower (Modern Room has only a shower), and lock safe box come in all rooms.
Amenities

Towel, Japanese yukata, toothbrush, body soap, rinse-in-shampoo, and hair dryer.
*As a humidifier is also available, you may borrow one from the front desk at no charge. Although there is a limited number, please ask at front desk upon need. Thank you for your consideration.
Preparation for
Younger Children

Yukata

100 cm / 140 cm → S/M Size

Slippers

One size only

*Yukata and slippers are available for charged children.
In this case, when you make a reservation you should choose for child fee with【Need Meal /Need Futon】.